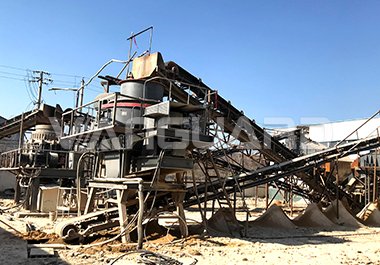 Configuration:feeder, jaw crusher, cone crusher, sand making machine, vibrating screen
Material:river pebble
Capacity:150T/H
Project Overview:
Adopting tertiary crusher achieves completion of river pebble crushing, sand making, and shaping simultaneously. Good discharge particle shape.
Project advantage:
The main engine of the project respectively adopts the wedge discharge port adjustment device and the hydraulic device to automatically open the cover, which makes easier and faster operation and low maintenance intensity. The main equipment for primary crushing, intermediate crushing, and shaping sand making of this production line are all purchased from our company. The combined production of 6CX jaw crusher, CSV cone crusher, 5X vertical shaft impact crusher, etc., has considerable production capacity.
Service Guarantee
In order to prevent the rights and interests of customers from being infringed, Vanguard reminds customers and friends: Please order products through the official website of Zhengzhou Vanguard, or call the Unified Sales Hotline:+86-371-5557 8880;Or send mail to:info@vanguardtec.com,We will contact you as soon as possible to provide you with the most professional service in the industry.