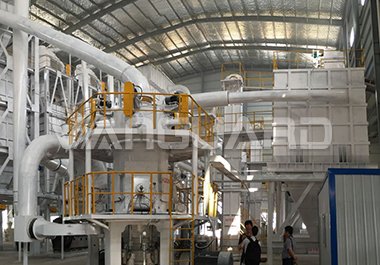 Configuration:190 vertical mill, closed quantitative feeder, electric control cabinet, etc.
Material:coal, semi coke, asphalt mixture
Output size:200 mesh
Project Overview:
After being put into operation, this production line has been running successfully. Not only does the output and fineness meet the requirements of customers, but also the environmental protection performance is better.
Project advantage:
The vertical mill adopts the principle of grinding on the material bed , so the grinding efficiency is higher. The production line has an annual output of 100000 tons. In Ningxia, where the majority of small and medium-sized activated carbon production enterprises exist, the output is considerable and competitive. The noise of the vertical mill is below 85 dB, the noise is low; the equipment is well sealed, the system works under negative pressure, without dust spillover, and the environment is clean, which can meet the national environmental protection requirements.
Service Guarantee
In order to prevent the rights and interests of customers from being infringed, Vanguard reminds customers and friends: Please order products through the official website of Zhengzhou Vanguard, or call the Unified Sales Hotline:+86-371-5557 8880;Or send mail to:info@vanguardtec.com,We will contact you as soon as possible to provide you with the most professional service in the industry.