In late autumn October, the weather was cool. With the approaching of November, Philippine International Building Materials Exhibition PHILCONSTURCT 2018 will be held in Manila World Trade Center from November 8 to 11, 2018. As a professional manufacturer of mining machinery specializing in the production of crushing and screening machinery and supporting equipment, Vanguard Machinery awaits new and old customers in pavilion HALL D, WT178.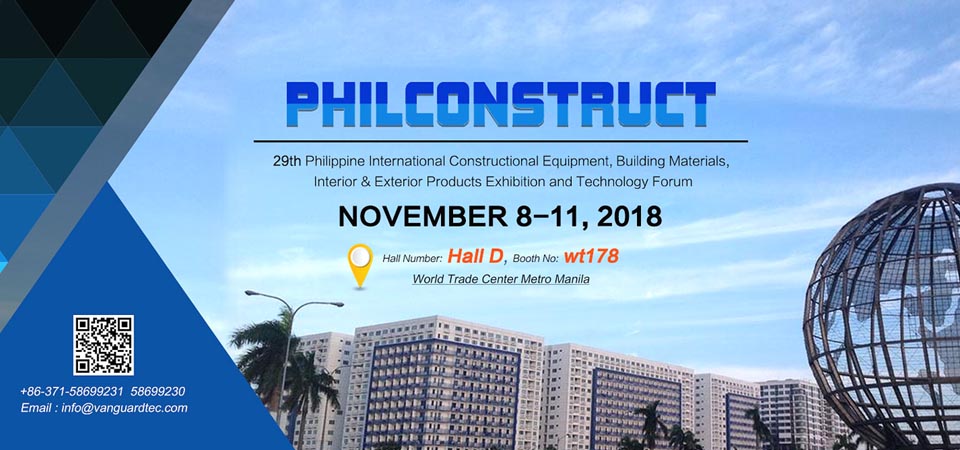 In recent years, with the increasing exchanges of visits and contacts between leaders of China and Philippines, bilateral import and export trade has increased significantly, and has a good prospect in the fields of industry, agriculture, resource development and engineering contracting. The Philippine International Building Materials Exhibition (PHILCONSTRUCT Mindanao), which held annually, is one of the most important building materials exhibitions in Asia, and also one of the hot comprehensive building materials exhibitions in the Philippines. The exhibition has become an indispensable platform for exhibiting the latest products, sharing the latest information and exchanging technology in Philippine construction industry.
As a professional manufacturer of aggregate and building sand production, municipal construction waste treatment and other comprehensive supporting equipment, Vanguard Machinery has always been keep our eyes on Philippines as our key foreign trade development market. This exhibition is not only a summary of the Philippine market in 2018, but also an in-depth investigation of the Philippine market in 2019. At that time, the exhibitor team, which lead directly by general manager and composed of backbone sales and senior technical engineers, will go deep into the Philippine market, recommend new products, visit old customers, investigate market conditions and excavate potential customers for expanding and introducing the products and services of Vanguard machinery to the Philippine market, and striving to enhence the influence of Vanguard machinery in international market. All the participants have already been in high spirits and full of expectations for this trip. We believe they can live up to their expectations and return with high reputation.
As the saying goes, "it's better to die of exhaustion than to die of leisure at work. It would meet with a refusal rather than face the wall. It is the wolf that has to practise the good teeth, and the sheep must practice the legs well. " Let us join hands and work together to fight and win without regrets.