On a scorching hot day of July in Zhengzhou, Mr. Wang and four other people who came from outer Mongolia arrived and started to visit the factory and headquarters of Vanguard Machinery.
Mr. Wang came to inspect and planed to order a set of iron ore crushing production line. After early communication, our company's design plan and product performance were highly recognized by customers. At the cordial invitation of our company's sales staff, he visited our company and made an on-the-spot inspection of our company's production area.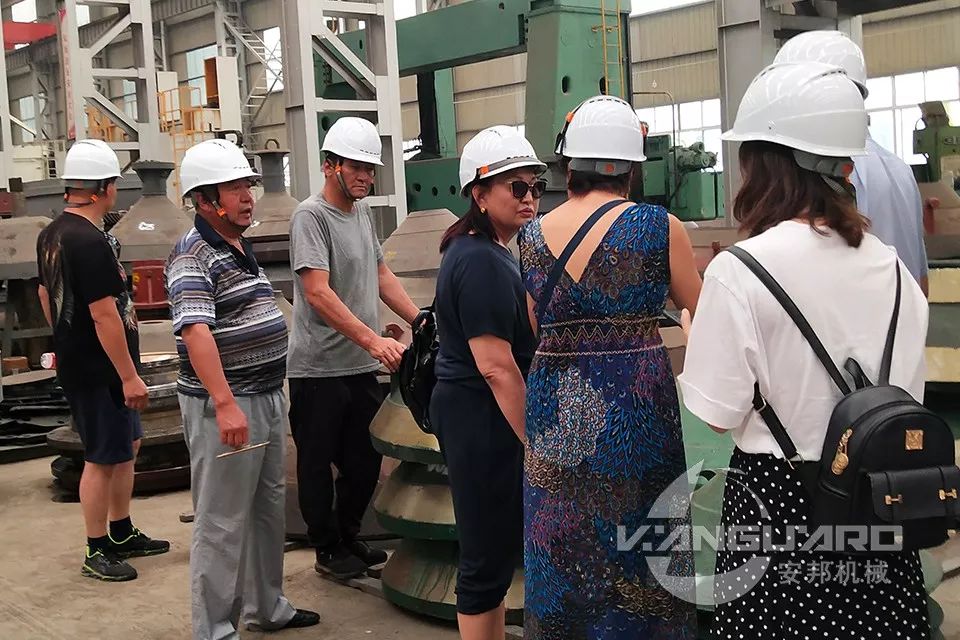 Accompanied by Mr. Qiu, sales manager of VANGUARD, Mr. Wang and his delegation came to Vanguard Machinery production base in Yuzhou Industrial Park. It covers an area of 130,000 square meters and has many advanced equipment processing workshops and spacious, bright and orderly product preparation and delivery areas. Mr. Wang and his team highly appreciated our company's production capacity and processing technology and looked forward to cooperate with us as soon as possible.
Later, they drove to the company's headquarters to discuss technical details and after-sales issues in detail. Vanguard Machinery salespeople is fluent in Mongolian throughout the communication, providing enthusiastic and thoughtful service with professional and dedicated attitude, so that customers completely had no additional worries, finally they signed the contract and remit money without any letup.
Despite the high temperature, VANGUARD people served customers with great enthuasiasm. In the field of mining equipment production, we strive for excellence, research and innovation, strictly grasp product quality, and produce the most competitive products. During the sales process, we combine the planning and requirements of customers to make the optimal feasibility plan, to maximize the economic benefits of customers. During the process of equipment operation, the professional after-sales team will provide powerful 7/24 after-sales service to maximize the value of VANGUARD's machines for customers.
In the fiercely competitive mining machinery industry, Vanguard Machinery has always adhered to the service purpose of "win customers' trust with integrity", adhered to the original aspiration, accumulated pace, based on the local, make friends, and pledged to be the most professional producer and distributor of mining machinery industry.